Common Name: Red Bellied Pacu
Scientific Name: Piaractus brachypomus
Size: 12inches to 30inches (Explained Below)
Diet: Insects (Mine eats mealworms), vegetation (Lettuce, fruits), flake food and sinking pellets.
Life Span: 28+years
Tank Size: 300 Gallons
*Size* It is common for a Red Bellied Pacu to reach the size of only 12 inches in an aquarium, but they can still reach the size of 30 inches, so be prepared just in case.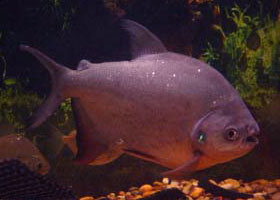 Please ask anymore questions that you may have.